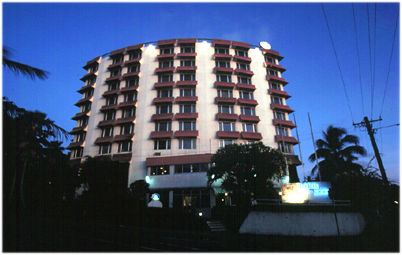 The Berjaya Hotel, Suva is superbly located on the premier business, government, shopping and entertainment district in Suva. With 48 air-conditioned rooms and suites, all rooms feature TV, Sky Entertainment & Sports, private bath and shower, mini bar, tea and coffee facilities. An exciting dining experience is to be found at the Kampong Ku Restaurant feature authentic Malaysian cuisine or opt for more internationals in the Gordon Coffee Shop on the lobby level. For recreation, the hotel swimming pool is your private sanctuary in the sun. Our Serviced Tour Desk can facilitate your tours, sight seeing or sports activities
Location: Cnr. Malcolm & Gordon Street, Suva
How to reach property from Nadi Airport & cost: Taxi - F$120.00 (one way). Coach - F$27.00 pp (one way)
Facilities: Air-conditioned rooms, Swimming pool, Phone in room, Satellite/sky television.
Activities: Snorkelling, golf, Green fee for golf on discount at Fiji Golf Club, all other activities can be arranged through our Tour Desk.
Restaurants: Gordon Coffee Shop and Kampong Ku Restaurant
Accommodation: Three categories of rooms: Standard, Deluxe and Suites, all fully airconditioned and have a panoramic view of suva.
Number of Rooms: 48
Rates (VAT inclusive): F$134.00 Single/Double/Twin per night
Number of Suites: 4
Rates (VAT inclusive): F$257.00 Single/Double/Twin per night
Children rates: Under 12 years accompanying a parent - FOC
Checkin time: 2.00pm
Checkout time: 10.30am
Payments accepted: Major Credit Cards, Cash, company order
A member of the Fiji Hotel Association
Address:
Berjaya Hotel,
P.O Box 112,
Suva
Tel: (679) 312300
Fax: (679) 301300
E-mail: berjaya@is.com.fj