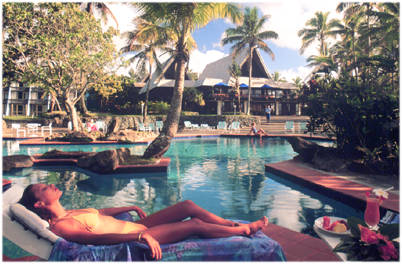 Centra Resort Pacific Harbour is the perfect getaway from it all holiday destination. Located just 45 kilometres South East of Suva along the queens Highway and 2 hours drive from Nadi International airport. Pacific Harbour offers access to a huge range of leisure activities. The natural beauty and huge range of activities affordable at Centra Resort Pacific Harbour will ensure it remains one of your favourite holiday memories.
Location: Queens Road, Deuba, Fiji
How to reach property from Nadi Airport & cost: Taxi at $90.00 Hotel transfer at $35 per person one way
Facilities: Air-conditioned rooms, Swimming pool, Satellite/sky television (in bar only), Phone in Room, Internet Facilities, Mini Bar, Tea/ Coffee making facilities, TV in house movies.
Activities - complimentary: Kayaking, Hand line fishing. Turtle feeding, Non-motorised water sports.
Activities with cost: Horse riding, Coral viewing boat, Golf, Snorkeling, Diving, Reef fishing, Gamefishing
Weddings: Make your Wedding Vows in our Tropical Paradise. The soft rustle of gently swaying palm trees and the soothing whispers of the ocean will provide the background harmony of the band and the choir as you glide forward and prepare to make your wedding vows in our tropical paradise. Included in the Wedding Package: Marriage licence; Church Minister or Marriage Celebrant; Bridal Bouquet; tropical Flower garlands; Wedding cake; toasting Refreshments; Band and Choir; and the choice of a garden, golf course or swimming pool setting for your ceremony.
Restaurants: Golf & Country Club - Lunch only, Nautilus Restaurant - serves Breakfast/Lunch/Dinner.
Accommodation: Standard room
Number of Rooms: 83
Number of Suites: 1
Rates(VAT inclusive): Rooms: $148.50 (VIP), Suite $275.00 (VIP). Children under 16 yrs sharing with parents - free of charge
Checkin time: 2.00pm
Checkout time: 11.00am
Payments accepted:
All major credit cards - Visa, Mastercard, Diners, Amex, Cash and Bank drafts
A member of the Fiji Hotel Association