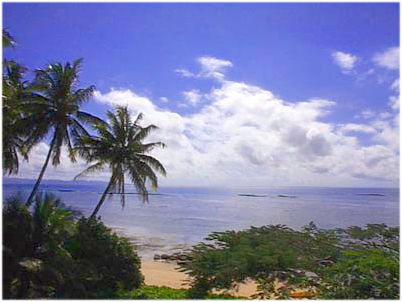 This is an intimate resort located directly on a private white sand beach.With just three accomodations, our guests have an opportunity to experience the solitude and simplicity of the island way of life. You will find no disco and no cable t.v. here. What you will find is extraordinary diving and snorkeling,incredible nature walks,the greatest staff this side of the Pacific and sunrises that will take your breath away. We at Coconut Grove are devoted to this island, it's people and it's traditions. Come see why people say that Taveuni is one of the most magical places on our earth.
Location: Taveuni Island
How to reach property from Nadi Airport: By Inter Island Flights - Air Fiji or Sunflower Airlines: US$210
Activities – complimentary: Nature walks,birdwatching, handline fishing right on our beach,snorkeling,village visits,star gazing at night
Activities with cost: Our main draw to the island is diving, and we can arrange your dives with the best that Taveuni can offer. In addition we have kayaking, horseback,sailing trips and deep sea fishing,
Weddings: We do a simple yet elegant wedding on our private beach in front of the resort. The staff makes a beautiful archway of fresh flowers down on the sand, salusalus (leis) are woven for each of you and a special Meke from the village can be arranged. If you want to end it on a very special note, a sunset cruise on a 42' sailing yacht is also available after the ceremony.
Restaurants: One oceanfront
Accommodation: 2 beach front bures with ceiling fans, indoor and outdoor private showers, private verandah with chaise longues and views of the beach and ocean from every window.
Number of rooms: 3
Rates (vat inclusive): $50.00 - $85.00 U.S. per person, per day, based on double occupancy. Price includes 2 meals per day and all drinks (except bottled) at those meals, as well as 10% gov't tax.
Single supplement is available at $35 per day

Check in time: 12 noon
Check out time: 10.00 a.m

Payments accepted: Visa, Master Card, Cash and Travellers cheques