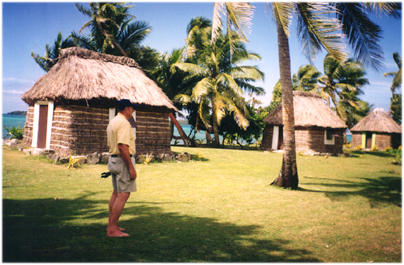 Davids Place is on Tavewa island in the Yasawas. We have Fijian Bures, reflecting the style of a traditional Fijian village accomodation.
Our beachfront bures are right on the beach, where you here nothing at night but the waves only.
Oceanview bures are not too far from the beach and you still have a very good view to watch sunrise and moonrise. Affordable paradise on the Yasawas. Beautiful white sandy beaches, spectacular coral reef and freindly people. Taste the real Fijian way of life, once experienced, never forgotten. Trips to the hidden caves, local village at reasonable rates. After exploring the mystical caves, visit a Fijian village and enjoy traditional Fijian cooking and enjoy their customs and dancing to Fijian music every night.
Location: Tavewa Island, Yasawa.
How to reach property from Nadi Airport & cost: Airport-Lautoka: $20.00 by Taxi, $1.00 by Local Bus. Get the boat from the fisheries wharf; Lautoka, we also have a office at the arrival concourse, office No:31 open 24 hours.
Activities - complimentary: Reef Walking, Snorkeling, Hand line fishing, Diving, Visiting the Cave, Visiting the Fijian Village, Sunrise and Sunset walks on the top of Tavewa Island.
Activities with cost: Hand line fishing
Restaurants: One dinning room, Set menu everyday
Accommodation: Dormitory, Double Bures, Twin Bures, Camping and Family Beachfront Bures.
Number of Rooms: Double Bure: 11, Family Bures: 2, Twin Share: 2
Rates (VAT inclusive): S
Dormitory: 4 Dorms
Rates (VAT inclusive):
Sleep 10: $35.00 per night
Sleep 8: $35.00 per night
Sleep 4: $37.00 per night
Sleep 3: $37.00 per night

Checkin time: Any Time
Checkout time:10:00am
Address:
Davids Place
P.O. Box 1784,
Lautoka
Tel: 663939
Fax: 721820