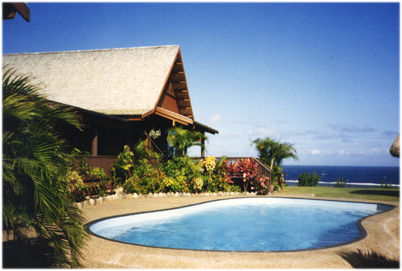 Delana is a large secluded luxury house/villa with accommodation for up to eight guests perfect for honeymoons, as Delana Fiji offers total privacy. There are no other guest!. Delana, means 'on top of the hill' and is ideal for honeymoons, couples, stressed professionals and families who just want a place of their own. No other house in Fiji compares with Delana, with its traditional Fijian architecture, luxuriously appointed throughout and commanding 180 degree view of the South Pacific. " Booked two weeks, stayed three! Best vacation in years. Fun, food, wine and great friends" Robert Milet - President, Vacations on Video - USA
Location: Coral Coast
How to reach property from Nadi Airport & cost: Arranged by Delana or own arrangements. Following are rates arranged transfers to/from Nadi airport.
2 people FJD$50 one way (airport)
3-6 people FJD$100 one way (airport)
7-8 people FJD$150 oneway (airport)
Facilities: Swimming pool, medical staff available, internet facilities, sky TV, fully equipped kitchen, en-suite with spa.
Activities - complimentary: Reef walking, snorkeling
Activities with cost: Horse riding, tennis, golf, massage, hair braiding
Restaurants: Fully equipped kitchen, 8 restaurants close by.
Accommodation: Maximum 8 guests only (one booking at a time) , 1 master bedroom with king size bed, ensuite with spa, 3 double share rooms: 1 queen size, 4 single - shared bathroom.
Rates (VAT inclusive):
1999 - Valid until 31/12/99
2 people: FJD$290 per night (vip)
3-8 people FJD$460 per night (vip)
2000 - valid from 1/1/2000 until 31/12/2000
2 people: FJD$319 per night (vip)
3-6 people: FJD$506 per night (vip)
7-8 people: FJD$606 per night (vip)
* all guests receive complimentary continental breakfast
Check in/out time: no set times - depends upon arrival/departure time and availability
Payments accepted:
Cheques, cash (Credit card facilities soon)