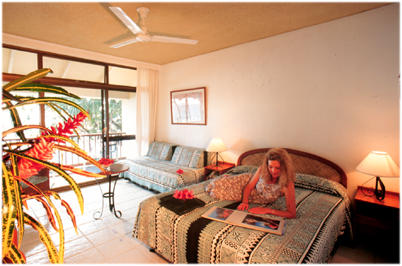 Garden Island Resort is an intimate oceanfront property located on the beautiful island of Taveuni, the third largest island in the Fiji archipelago. The resort is located 3km south of Somosomo village and all rooms have an ocean view overlooking the Somosomo strait with the islands of Vanua Levu, Kioa and Rabi in the background. The resort has a swimming pool and a coral waterfront.
Location: Taveuni Island – minutes away from the 180 meridian
How to reach property from Nadi Airport & cost: Inter island flights via Air Fiji or Sunflower Airlines
Facilities: air-conditional rooms, swimming pool, medical staff available and phone in rooms
Activities - complimentary: Reef walking and a walk to the 180 meridian line
Activities with cost: kayaking, coral viewing boards, snorkeling, hand line fishing, horse riding, tennis, golf, diving, village trips, bird watching trips and waterfall trips.
Restaurants: Poolside restaurant and Bar with Fijian and International cuisine with wonderful ocean views.
Accommodation: 30 ocean front air-conditioned rooms with balconies overlooking the Somosomo strait.
Number of Rooms: 30
Rates(VAT inclusive): Rooms: (US) single $66 / double $84 / Triple $99
Dormitory: 2 Dorms (4 single beds each)
Rates(VAT inclusive): (US$15) per person per night
Included in Rates: under 16 Free if accompanied by adults

Checkin time: 12 noon
Checkout time: 10am
Payments accepted:
Visa, Master Card, Amex, cash and travellers cheques
A member of the Fiji Hotel Association
See Also: Aqua - Trek Taveuni Dive listing
Address:
Garden Island Resort/Aqua Trek Taveuni
PO Box 1, Waiyevo, Taveuni, and Fiji
Ph: (679) 8880 286
Fax: (679) 8880 288
Email: (Fiji): garden@is.com.fj
(USA): info@aquatrek.com