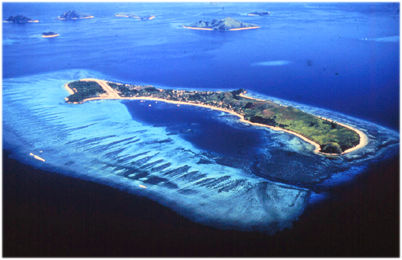 Mana island, just 32km from Nadi International Airport, is the largest gem in the string of jewels that make up the Mamanuca Group. The resort prides itself in its surrounding of open and secluded pristine beaches and submerged reefs with clear waters. We are accessible by air within 12 minutes from Nadi Airport or 45 minutes away from Denarau on a beautiful scenic sea cruise.
Mana offers both bure and hotel room type of accommodation in the standard, deluxe and executive ranges. As the resort is being marketed internationally, the service it offers caters for a cosmopolitan demand in its menus, its activities and its bars.
We have an assortment of activities to suit all, from the athletic to the more relaxing. For the water lovers, our offers are many, varied and exciting, some complimentary and some have rates applicable. Fully licensed Padi approved scuba diving services and activities are available with trained and experienced instructors.
The new sea side wedding chapel is receiving very encouraging response from all sectors of the market. Mana is a large island and caters to a wide variety of international guests.
Location: Mamanuca Group
How to reach the property: By Flight (10mins) F$64.00 (one way) or Launch (45 mins) F$41.00 (one way)
Facilities: air-conditioned rooms, swimming pool, phone in room, medical staff available, internet facilities
Activities - complimentary: kayaking, coral viewing boards, reef walking, snorkeling, hand line fishing, tennis, bush trekking
Activities - with cost: Diving, Gamefishing, All motorised water activities
Weddings: Weddings usually take place at sunset. The standard package consist of ceremony located on the sands of North beach with the tides lapping at your feet. Included are wedding registration, the Christain minister, a choir or Fijian serenade, traditional escort, and a bottle of sparkling wine to celebrate. The Delux package offers a ceremony in the new Seaside Wedding Chapel located overlooking the pristine beach on the sunset side of the island. The chapel is decorated in flowers and bunting, a flower lei is provided and the couple are showered in a confetti of freah petals. Optional extras include photography, hair, makeup and tropical massage, the hire of a traditional Fijian wedding costume and a special Mana wedding certificate through packages can be tailored to meet any requirements.
Restaurants: Two restaurants - Mamanuca Restaurants - A'la carte menus and buffets and South Beach Restaurant - A'la carte and romantic dinners
Accommodation: Accommodation ranges in executive, deluxe and standard.
Number of Executive rooms: 18
Rates (Vat inclusive): F$550.00
Number of Deluxe Bures: 52
Rates (Vat inclusive): F$400.00
Tropical Garden Bures: 85
Rates (Vat inclusive): F$270.00
Children rates: Two children under 12 sharing with parents is free
Checkin time: 2.00pm
Checkout time: 10.00am
Payments accepted: Visa, Amex, Diners, JCB
A member of the Fiji Hotel Association