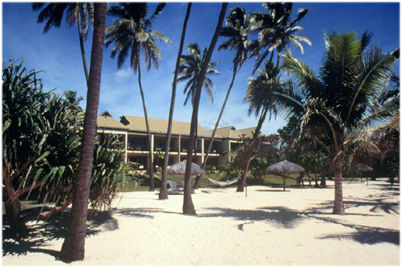 Location: Nadi Area
How to reach property from Nadi Airport & cost: By Road transport, approx $20.
Facilities: Air - conditioned rooms, Swimming pool, Phone in room, Sky television, Internet facilities, Conferencing Facilities also available.
Activities - complimentary: Hobie Cats, Paddle Boats, Windsurfing, Canoeing, Tennis, Fish Feeding, Children's Hostess Activities.
Activities with cost: Horse Riding, Water Skiing, Knee Boarding, PADI Scuba Diving, Snorkeling, Island Hopping, Golf, Assorted Day Trips, Game Fishing, Fire Walking, Banana Boat Rides.
Weddings: Weddings are usually held at sunset on the grassy area of the beach front, though you have the whole island from which to choose the perfect setting. The bride arrives by decorated boat carried ashore on the shoulders of Fijian warriors while a Fijian village choir sings in the background and Fijian flower girls wait to escort you. Wedding package includes transport to Nadi to arrange the license plus a Minister or Celebrant, Cake, flowers and photographer. Also included are traditional costumes for the bride and groom, though couples may prefer to bring their own attire.
Restaurants: 3
Number of Rooms: 32 rooms
Number of Suites: 48 Bures
Rates(VAT inclusive): Beachfront Hotel Rooms: F$320, Ocean View Bures: F$385, Beachfront Executive Bures F$495
Rates include 10% VAT and full Buffet Breakfast
Included in Rates: Children FOC with sharing adult.
Checkin time: 2.30pm
Checkout time: 11.00am
Payments accepted:
All major credit cards - Visa, Mastercard, Diners, Amex, Cash
A member of the Fiji Hotel Association
See also: Sonaisali Dive listing