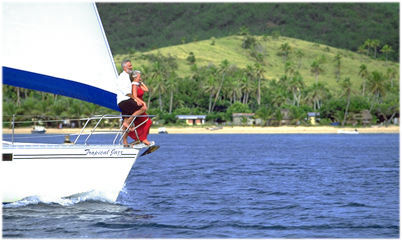 Jonathan & Janice, Melbourne
"We first read about Turtle island in Gourmet Traveller," says Jonathan, a Qantas pilot who married his sweetheart flight stewardess Janice just like out of a Mills & Boon story! "It has such a great reputation. It's a good place to relax and the staff make it really special. It's not like a big resort where everything is impersonal: we enjoy the dine outs as well as meeting everyone else!"
Matthew & Harumi
"We wanted to find a special place to get married - there were too many family complications back home," say the Sydney opal dealers who could have had family from the outback and overseas to co-ordinate! "So we got engaged, flew over and now we've decided to plan our ceremony here in a few days time."
Tony & Vanda, Sydney
" We had a huge wedding with 320 people so we wanted a complete getaway, " says the Sydney Doctor and his pharmacist wife who met while working at the same hospital - another romantic novel in the making! "We saw a picture of Vatulele Island in a magazine so we asked out travel agent to show us a video and we fell in love with it! We especially liked the idea of paying upfront and not worrying about the price of a bottle of wine or champagne!"
Blake & Denise, Illinois, USA
"We were told that Fiji - and especially Turtle Island - was the most romantic place in the world for a honeymoon. So we first stayed at Pebble Beach (where Blake proposed), then Squaw Creek at Taho, then headed to Fiji for 7 nights. And this is paradise - it's phenomenal. We've been to Tahiti, Hawaii - it doesn't compare. Instead of imposing the ideal of paradise, they let the beauty of the island speak for itself."
John & Jennifer, USA
"We always planned to have a traditional Chinese wedding for 600 people - then one day we were in this small bookstore and found a book called "Far and Away Weddings'. So we decided to have an island ceremony in Fiji instead - we really enjoyed the intimacy, the singing, the fun of inviting new people we've only just met! The main reason we decided on a tropical wedding is that we want to one day live on an island and so we 'began' our life together the way we want to end up together."